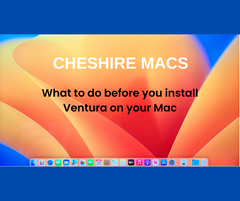 We are receiving an increasing number of people experiencing issues when trying to update to Ventura.
Before you update please make sure you do a FULL BACKUP of your files!
If the update goes wrong we have to do a full wipe and reinstall of the Mac so if you haven't backed up you will lose everything, so make sure you back up those files.
If you have already experienced this issue, do get in touch to see if we can help.
We would recommend holding off updating to Ventura until the glitches have been ironed out. 
You can contact us on 01625 415088 or via email info@cheshiremacs.com