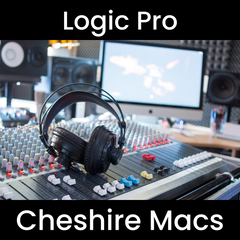 Logic Pro - Which Mac is compatible?
Logic Pro is a very popular music creation program - powerful creative tools for professional songwriting, beat-making, editing and mixing.
As with Final Cut Pro, Logic Pro is software created by Apple so suits most Macs.
Anything with OS 11.5 (Big Sur 2014) or later will run Logic and we would recommend 8GB of RAM and minimum 256GB Storage.
An iMac or MacBook Pro or Air will work and is really down to personal preference, if you're out and about or travelling to recording studios go for a MacBook or if you have a home studio an iMac would most likely be preferable.
If you still need help choosing you can contact us on 

01625 415088

 or message us!
Got a Question?
One of the most common questions we receive is 'how do I speed up my iMac?'. The answer isn't always straight forward and simple. However, our technicians have over 20 years' experience. This allows them to draw on this to find the best solution for our clients.
If your iMac does not have an SSD (solid state drive) then this can often be the answer to speeding up your iMac. We are able to offer fast turnaround on all iMac repairs. Message us or get in touch if you would like a quote for an SSD. This could help provide a solution to an issue you may have been fighting for some time.
Speeding up Your iMac
While you are with us, our helpful and friendly staff are also on hand to help with any other questions you may have. Building a trusted relationship with our clients just comes naturally to us. We aim to provide the one-stop solution for all of your Apple devices.