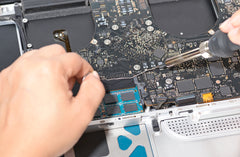 If you are looking for an Apple Mac repairer, it is an obvious statement to say that you will be looking for a reputable one. So many people find the online world quite a confusing one. There are sponsored Ads, social media promotions and other paid methods of making companies stand out. There are many layers that need to be stripped back before you get to the point where you feel confident in your decision.
The following information has been put together in order to support you through the process of finding a good Apple Mac repairer:
The first thing to look for is a company who offers a warranty provision. All of our repairs come with 3 Months warranty. If any problems arise in this time that are linked to the repair will be rectified quickly at no cost.
The second identifying factor is a time-served and experienced company. Their website will provide you with details and information about the company and how long they have been in business. Feel free to ask questions about our experience; we will be happy to talk you through our story and how we have become the incredible company we are today.
This leads seamlessly into the third factor. It is a really good idea to select a company that has an online presence but also have a local shop. You need flexibility in the way that you deal with us. Therefore, we have identified many ways in which you can make contact. We are also able to offer coming into our local Wilmslow store, where you will be welcomed by our friendly staff.
Lastly, it is a good idea to select a company who have more flexible payment options. Payment for our services is made once the repair is complete and the item is ready to be sent back to you. We can accept payment by either PayPal, bank transfer or Credit/Debit Card over the phone.
If you have any questions about Mac repairs, please don't' hesitate to get in touch to ask any questions. We are available on 01625 415088.