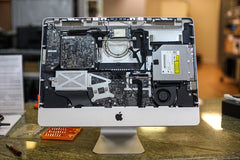 Buying tech can seem like a minefield. In fact it can leave some people feeling like they are the only ones that don't understand quite how to find what they are looking for. We are all led to believe that larger companies offer a better service, prices and quality. CheshireMacs are here to change the way people buy tech and are setting new standards for the world of refurbished Macs.
Rest assured that our service, prices and quality are some of the main focuses for our work ethic. It isn't good enough just to have the products to sell. Refurbished Macs and refurbished MacBooks are sought after. But people want to buy from companies who can offer competitive pricing as well as a great service.
Our Process:
Each device that we sell is inspected and tested by our expert technicians. Our inspection procedure is comprehensive and exhaustive. It is important that we take our time to examine every element of the device in order to move it onto the next stage.
We work to check the screen and make sure there are no damaged pixels or issues with brightness, lines or blurriness. The device is also checked for imperfections such as scratches, dents or defects so that it can be appropriately graded.
Any issues or areas of concern will be thoroughly replaced, cleaned or sorted so that we have the confidence each element is working at its best.
The device is then thoroughly cleaned by hand. We restore the factory settings and confirm the grading that the device will be sold at. This process helps to define the cost at which the device will sell for.
We may be a smaller company, but we have large aspirations to change the way in which people buy tech. Our team will always go the extra mile and create a service that is hard to beat. Get in touch with any questions you have on 01625 415088.