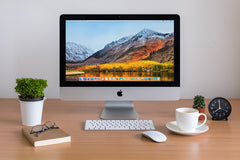 There are many reasons why you may be looking at buying a refurbished iMac. These reasons are likely to be personal to you. However, whether you are buying for business or personal purposes, a refurbished alternative is a really great one.
Why A Refurbished iMac?
There are many reasons that extend past the point that they cost less to purchase. This is a great advantage to a huge percentage of our customers. However, there are other reasons. All refurbished iMacs and other Apple products are sold with a 1-year warranty. This offers peace of mind and reassurance to our customers.
We are a smaller-scale business. This means that we are passionate about our clients and the service they receive. We realise how important it is to offer the best possible customer service. This comes very naturally to our helpful team. We will always go the extra mile to offer information and advice that will allow you to purchase the best option for you. Your needs will be individual so therefore, it is important that you are confident in how best to choose the right iMac for you.
Our team are meticulous in our approach to refurbishing iMacs. Whether you are looking for a 27" iMac, a 21.5" iMac or a Mac Mini, we have stock to suit your needs. These are available in different screen sizes, and we also sell a range of computer accessories that will really tailor your purchase.
The iMac is known to be one of the best all-in-ones on the market today. It offers incredible versatility. Rest assured that we will have an alternative that will suit your budget and requirements.
One of our clients commented:
"I found CheshireMacs after being recommended and it was truly the best business to come to. I ordered my MacBook and it came a couple days later. The pricing was very good and I've received such a good quality product. Customer support was spot on and quick to answer my queries. Even let me change postal address last minute. I highly recommend." – George Pipe
Get in touch with CheshireMacs today to find out more about how we can help on 01625 415088. We look forward to the opportunity of speaking with you.