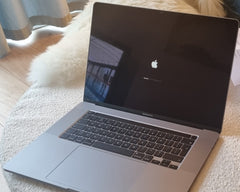 We have created a bespoke Mac repairs process. This is based around tried and tested methods and techniques and identifying what works best for our clients. We are always on hand to offer support throughout the process. This makes sure that you are kept informed and aware of the next steps.
What is our Mac Repairs Process?
To start with, we guide our clients to complete a repair form on our website. This asks for your contact details, the serial number of the device and leaves a space for you to discuss your issue. We ask for as much detail as possible. Why? This allows us to provide an accurate and thorough quotation to complete the work. On completion of this form a repair number will be generated. From this point, a quote will be provided via email. This will detail the repair process and a price to complete this.
On occasions (i.e. water damage) we will not be able to quote until the fault has been diagnosed by one of our technicians.  We do a 'no fix no fee' so we would just arrange to return the Mac to you at cost of £15.00 if you chose not to go ahead.
Usually, a repair takes two to three working days. If for any reason it will take longer, we will contact you. Once we receive the Mac, if the fault is different to what was quoted, we will contact you with a revised quote. Every element of the process will be made to be transparent. If you choose to not go ahead with the revised quote, we will send the Mac back at the charge of £15.00.
If you not local and wish for us to arrange collection and return, we can do this via DPD for an additional cost of £30.00. Alternatively, you can arrange sending it in to us, but we will charge £15.00 for the return of the Mac on top of the repair quote. You will be contacted once the repair is complete by one of the team members to take payment over the phone.
We keep most parts in stock to make sure we are able to offer a fast turnaround for our clients. We realise that downtime with your device can cause disruptions. Therefore, it is our aim to get it back to you as soon as possible. All Mac repairs come with a three-month warranty. Got questions? Give our friendly staff a call on 01625 415088.