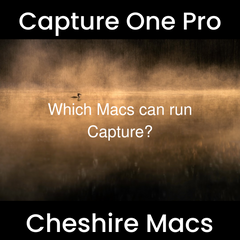 Capture One is a professional-grade photo editing software designed for pros and serious enthusiasts.
It offers exceptional RAW image file processing, image cataloging, layers, local adjustments, keystone adjustments, as well as just about all the features one would expect out of a pro image editing app.
The minimum system requirements on a Mac for capture One are -
Intel Core i3+ (1st generation)
10 GB of free hard disk space
Calibrated monitor with 1280×800, 24-bit resolution at 96dpi
macOS 11, macOS 12, macOS 13 (macOS 13 builds up to 13.0)
Internet connection to run Capture One Live
All releases from Capture One 21 (14.2.0) onwards provide native support for Apple Silicon Macs. Additionally, Hardware Acceleration on Apple Silicon (M1/M2) machines is achieved using Metal – this is now also the case on Intel based Macs, if you are using Capture One 22 (15.3.0) or newer.
If working with high-resolution images and doing calculation-heavy adjustments,
we recommend the following:
NVIDIA or AMD GPU with 8 GB+ RAM
Calibrated monitor with at least 1920×1200, 24-bit resolution at 96dpi
As always,

call us if you need any advice

, we have a resident, award winning photographer who is an expert in these systems!