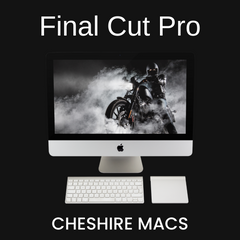 One question that we are asked daily is which Mac's can run Final Cut Pro?

Because Final Cut Pro is Apple software the good news is the vast majority of Mac's can run it.
What is Final Cut Pro? This is Apple's professional-level video editing software. It is an incredibly popular software for both professionals and also consumers looking for more power for their video editing projects. It does a really great job of providing a solution for both groups. There are well-publicised pros and cons for both groups. However, it has received great press once users get used to different elements of the software.
Did you know?
Final Cut Pro works exclusively on Mac computers (as it was made by Apple). It is possible that this will change in the future, but right now there are no versions available for Windows or other operating systems.

The minimum system requirements are 4GB of RAM, 1GB of VRAM, 4.5GB of available disk space and macOS 11.5.1 (Big Sur) or later.

We would recommend going for 8GB of RAM minimum and the biggest screen you can accommodate for easier editing purposes but this isn't essential.

Regarding the OS this means any MacBook Air, MacBook Pro or iMac from 2014 onwards will be compatible.
Here are some recommendations from us - https://cheshiremacs.com/collections/final-cut-pro
Our client commented:
"Nothing was too much trouble! Friendly, knowledgeable staff that went out of their way to solve an issue with a courier delivery (that was nothing to do with them) and saved Christmas! Thank you!" – Tony Macartney
If you would like more advice on which Mac would best suit your needs, please don't hesitate to contact us - we have an online chat on the website, you can call us or email us, or if you're local drop in! We will always go above and beyond to make sure you receive the best possible service.