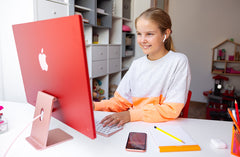 Are you considering a refurbished Mac for your child? If you are in this position it is really important that you invest time into identifying the best option for them. It is more than likely that if your child is of an age where you are considering a Mac, that they will already have a phone. A huge percentage of children are so advanced at using Apple devices from such a young age. It is a different world to where we were a decade ago. Therefore, it is more than likely that they can already identify and work their way around a Mac with ease.
A refurbished Mac will offer a huge cost saving. We all worry about our children using expensive devices. As much as we do try to make sure they appreciate the value of the item, accidents do happen. There are comprehensive insurance policies that you can take out to protect this. Any investment into a Mac is worthwhile protecting and a refurbished model is no different. However, the cost saving can be vast when finding the best model.
Online safety is a huge concern for our children. It is something that we have all had to improve our awareness on. All Apple devices are well-equipped to offer assurance to worried parents. Parental controls are easily accessible and there are clear and concise guidelines on how to set this up. There are different levels of protection, and we are always on hand to offered advice in relation to this.
Which Refurbished Mac is best?
There is no one standard answer to this question. To find the best alternative we will first need details on how your child aims to use the device. Listening to this information allows our knowledgeable team to identify which device will work best. Furthermore, we remain on hand to offer an ongoing customer service. Call today on 01625 415088.