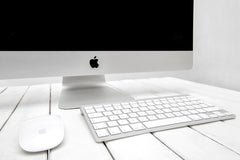 It might sound like a given that we believe that a refurbished Mac is the way to go. However, we also realise our word may also need to be backed by a little detail. It may be that you are looking for a new iMac or MacBook or you may even be looking to swap from a PC. Either way, the following information has been put together in order to offer an insight into why buying a refurbished Mac is a really positive step.
Apple have always approached their marketing strategy and promotion in what can be seen as a really aggressive way. In 1981 when IBM launched their first personal computer, Apple published an advertisement welcoming IBM to the marketplace. This was a clear way of showing their confident approach as market leaders. This feud is considered to be ongoing.
If you are looking for a new iMac or Macbook or even looking to make the move from a PC, the following benefits will hopefully help you towards making that important decision as to which is right for you.

So, if you're looking for a new computer or are considering making a switch, then you may well be wondering what's the difference between Mac and PC. We thought we'd focus on 5 key differences - those that might help you with that all-important decision of figuring out which one is right for you.
Our Key Benefits of a Refurbished Mac
Price
This may appear to be the most obvious one. Price is a real driver for those looking to own a Mac but wanting a more affordable alternative. Did you know that on average a Mac should last between 7 to 10 years? This is arguably why their price point is what it is. Macs provide both superior quality and longevity. Furthermore, they are also believed to offer a premium experience.
Design
Some may say that with Apple you don't have as much choice as other PC manufacturers. However, some believe this to be a positive. There is greater control over the quality and stability of their products.
Apple products are immediately identifiable with their design. Mac computers are lightweight and powerful and offer incredible versatility. You will immediately notice someone using an Apple computer. And no doubt this will leave you intrigued.
Operating System and Software
One key benefit of a Mac, is that their operating system is particularly easy to use. Furthermore, this is offered free. Did you know that the majority of major apps are available on both Windows and Mac? Our refurbished MacBook Pros and iMacs come with a 12 month warranty, a 14 day no quibble returns policy and ongoing customer support. If you've got a question about your refurbished Mac then we are here to help. This process is fast, simple and straightforward and you can always come into the shop to discuss any questions. We are particularly proud of our 5 star Trustpilot rating.

This information has been put together to highlight some of the key benefits of buying a refurbished alternative rather than new. You can get a range of high-end Apple products that offer the same superior performance and experience alongside a cost saving. Thinking about the planet? Then this is the option for you as they also offer a lower environmental impact. Got questions? Get in contact today.