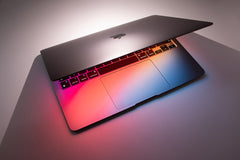 There are different terms used for a reconditioned MacBook. Some may refer to it as refurbished but both words mean the same. Essentially it is a more affordable and eco-friendlier alternative to buying new. When you get to know the team at CheshireMacs, you will be instantly assured in our approach and commitment to the success of this process.
Choosing a Reconditioned MacBook
We are here to help. We will listen to what you need, your usage and will guide you to make the right decision that matches your budget requirements. It is important that you feel confident in your selection, so our friendly team are here to help you.
Once you have made your selection, it is important that you are equipped to best look after your MacBook. Battery life is a large part of this, and this information will help you to get the most from your MacBook.
The batteries found in Macs are lithium-ion technology. These have been selected by Apple due to their high-power density and long lifespan. As you will be aware, the effectiveness of any battery is reduced over time. This is why it is so important to be aware of how to take care of your MacBooks battery.
Our Top Tips:
Li-ion batteries are more flexible than other, older batteries. However, it can be affected if left with no charge or full charge for longer periods of time.
Regular use is important
Try to let your battery complete at least a couple of discharge cycles each week
Don't always plug your MacBook into your AC Adapter (as allowing discharge cycles is important to elongate the battery life)
If you are storing your MacBook, make sure it is not left either with zero charge or full charge
Rest assured that keeping on top of this will help your battery life. Setting regular and simple routines from the start is a great idea. Have you got questions about buying a refurbished MacBook? Get in touch today by calling our helpful team on 01625 415088.