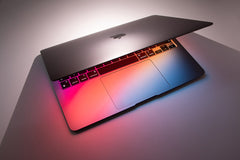 A Mac computer has an incredible reputation for being the best out there. There are many reasons for this, and we are proud of this fact. Whether you are running a busy family home or want to branch out professionally, we will have the perfect solution for you.
If you need help, our staff are able to support you through a checklist of items. This offers you confidence and assurance that your selection is the absolute best alternative for you.
Buying a Refurbished Mac
Do you need a new Mac for photo editing? We have a large range of Macs that will work perfectly with Capture One Pro, Adobe Photoshop, Adobe Photoshop Lightroom and many other imagery programmes. You also have the assurance that your refurbished Mac will work with any other software that you may use.
What Benefits Can We Offer?
We offer refurbished Macs that don't break the bank
We are able to offer free next day delivery
CheshireMacs have a 5-star rating on Trustpilot. These are independent reviews of clients who have used our company.
Klarna is available to spread the cost of your new purchase
We offer excellent customer service, without exception
Your purchase is backed by a 12-month warranty
We can offer a student discount should this be applicable
Further to this, an element that sets us apart from our competition is our friendly team. We all share a real passion for what we do and building a company that serves our clients well. This may be in the form of helping with a quick question or supporting someone through the purchasing process. No question is a silly question, and we work hard to ensure you are confident in your purchase selection.
Got a question? Need help with buying a new Mac? Call today on 01625 415088.